The Trailblazery

is a cultural agency dedicated to creatively activating the spirit of our times so that we can take better care of ourselves, each other, and this place we call home.

They do this by designing and producing live events, learning experiences and creative mentorship programmes on and offline. They champion and celebrate people who challenge the status quo and blaze trails in their own spectacular or intimate way.
Teaming up with Timmy Creed, actor and theatre maker, we produced a short titled 'What Is The Quest.I.On' for the Mountshannon Arts Festival, funded by the Arts Council and shot entirely during the first lockdown in West Kerry.
For Féile na Bealtaine this year('22) in West Kerry Diarmuid and Siobhan teamed up with the locals of Corca Dhuibhne to produce and star in 'Iomándraíocht - Cath Fionn Trá', an outdoor theatre performance designed to create the feeling of a ritual retelling, more than a re-enactment, of Cath Fionn Trá, the mythological battle between the Armies of the King of the World and the Fianna.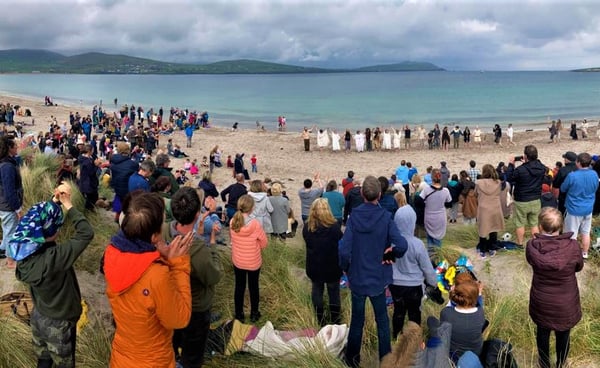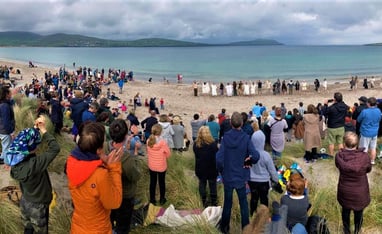 I teamed up with On The Ball teambuilding in 2019 as an ideal outlet to work with teams on creating a team and club culture. Rooted in a sense of place the workshops and talks have served to reconnect players with their community in a way teams sometimes forget in the high performance bubble of modern day sport.
On his travels in 2011 Diarmuid had his trusted hurl in hand to shoot the video 'Hurling Around The World', in conjunction with World Sports Team, and it saw him team up with the likes of Irish Rugby legend Brian O Driscoll, World Cup great Paul McGrath, virtuoso fiddle player Caoimhín Ó Raghallaigh, footballer and fashion designer Paul Galvin, hurling legend Joe Canning and former camogie player and TV personality Anna Geary, among many others.